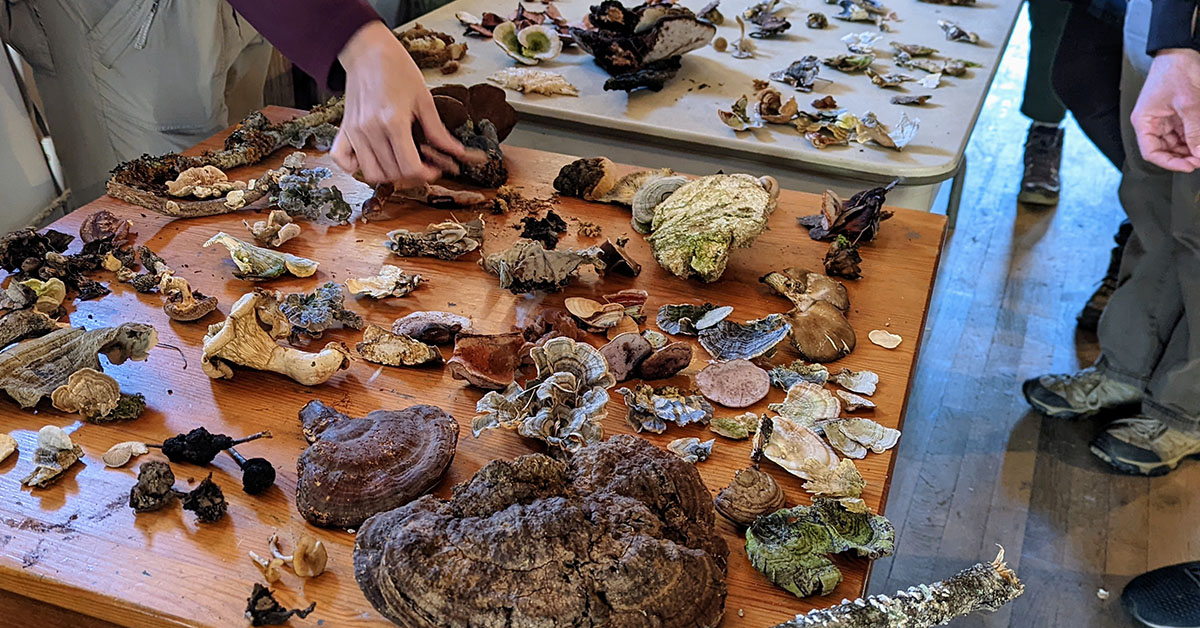 Tradd Cotter's Magic Mountain 5 Year Wild Mushroom Food Safety Course
I recently attended the 5-year wild mushroom food safety course that is put on by Tradd Cotter's Mushroom Mountain.
Tradd Cotter is a living legend of mycology and author of the essential mushroom cultivation book: Organic Mushroom Farming and Mycoremediation. Magic Mountain sells a variety of mushroom based products, mushroom cultivation supplies, and mycoremediation consulting services.
The class was phenomenal for reasons we will dive into later in this post, but if you are on the fence about taking the class… Just do it!
Wild Mushroom Food Safety Class Signup Link
Why Foraged Mushroom Food Safety is Important By now, you probably already know that mushrooms are a trendy topic. With the rise in popularity of mushrooms, there is also a growing demand for foraged mushrooms in restaurants.
Many mushrooms have poisonous look alikes, and the consequences for selling a toxic mushroom to a restaurant can quite literally be a matter of life and death. It just makes sense that the people who are selling foraged mushrooms to a chef should be able to demonstrate their knowledge, and many states are making this a requirement.
If you want to comply with state regulations and protect the health of whoever might consume your foraged mushrooms, then this course is just for you!
Maybe you have seen it happen in a facebook group where common mushrooms get misidentified. It is an easy mistake to make. A chef will want to know that you are knowledgeable and certain about your mushroom identifications. This course is a great way to demonstrate your knowledge to your customers!
Not everybody there intends to sell their foraged mushrooms. If you want to build your confidence and identification skills so that you might forage and consume your own mushrooms, then this is still a great class for you too!
Food safety helps ensure that your foraged mushrooms are delivered true to their ID, as fresh, and as safely as possible.
Getting ready for the foraging class
I received an email about a month before the course started. It contained the slideshow presentation that we later used during the class. It also contained a few other helpful related resources
I appreciated how I was given the opportunity to start my studies before the class even began. I would recommend that you review the slides and make flashcards to prepare, although other attendees did not find that necessary.
About the foraging class
The facilities for the foraging class were beautiful. It was held at the Wahsega 4H center in Dahlonega Georgia. The center is on a large piece of property which allowed us to forage and identify what we found as part of the course itself.
Our instructor, Brian, is highly knowledgeable and experienced in the field. He explained the key indicators to look for to discover our own foraging spots.
He answered our questions about specific mushrooms and toxic lookalikes, and everybody in the class left feeling more confident about their knowledge than when we began.
Over the 2 days we foraged, reviewed the power point presentation, we did a recap of the knowledge that we learned, and we took the final exam for our 5 year wild mushroom food safety permits.
The Wild Mushroom Foraging Class Exam
There are 4 parts to the exam. What they all have in common is that the test taker is expected to identify key characteristics of a mushroom and tell it apart from common toxic lookalikes.
Live Specimen Identification
A variety of mushrooms are put on numbered paper plates. Attendees are asked to identify some of the key characteristics of each specific mushroom, and then they are asked if they can identify the species.
Slide identification
A slideshow plays and the attendees are asked to identify the mushroom and several key features based on the image in the slide.
Approved species characteristics
A list of the approved species and common lookalikes is provided. From memory, the test takers are expected to describe the key characteristics for each approved species and its poisonous lookalikes. Is the wild mushroom food safety exam difficult? No!
The exam is comprehensive, but it is made very clear what you will need to know for the exam, and the in-class training is plenty of training for most attendees to pass the class.
I was thankful that I made flash cards because I am not certain how I would have performed without them. The slides are emailed out a month before the course starts, so that is plenty of time to start learning the material.
What I liked best about the course
The instructor was knowledgeable
The communications leading up to the event were great
The course prepared me for the exam
There was free coffee :)
Is the wild mushroom food safety class worth it?
If you are required to take the course to comply with your state regulations, then obviously the course is worth it!
If you are just trying to build your own knowledge about foraging edible mushrooms, then I still highly recommend the course. It is a great way to learn about foraging mushrooms in this classroom setting with a great teacher.
Where to Stay During the Course
The class spans 2 days so you will need to find some overnight accommodations.
I booked a nearby hipcamp on Lora's property. The host was very hospitable. She supplied me with some extra blankets because it was very cold that night, and she checked to make sure I had the essentials.
Make friends
Another attendee of the course, Fen, was looking for overnight accommodations.
As we were walking back to our cars after the course, I invited Fen to join at the hipcamp, and so they did!
Perhaps one of the best and most unexpected outcomes of the course is that I made a new friend. Fen and I sat around the campfire that evening and had a really nice conversation. I was so happy that I brought extra ingredients for foil pouch meals because I cooked for Fen, and they shared their charcuterie with me.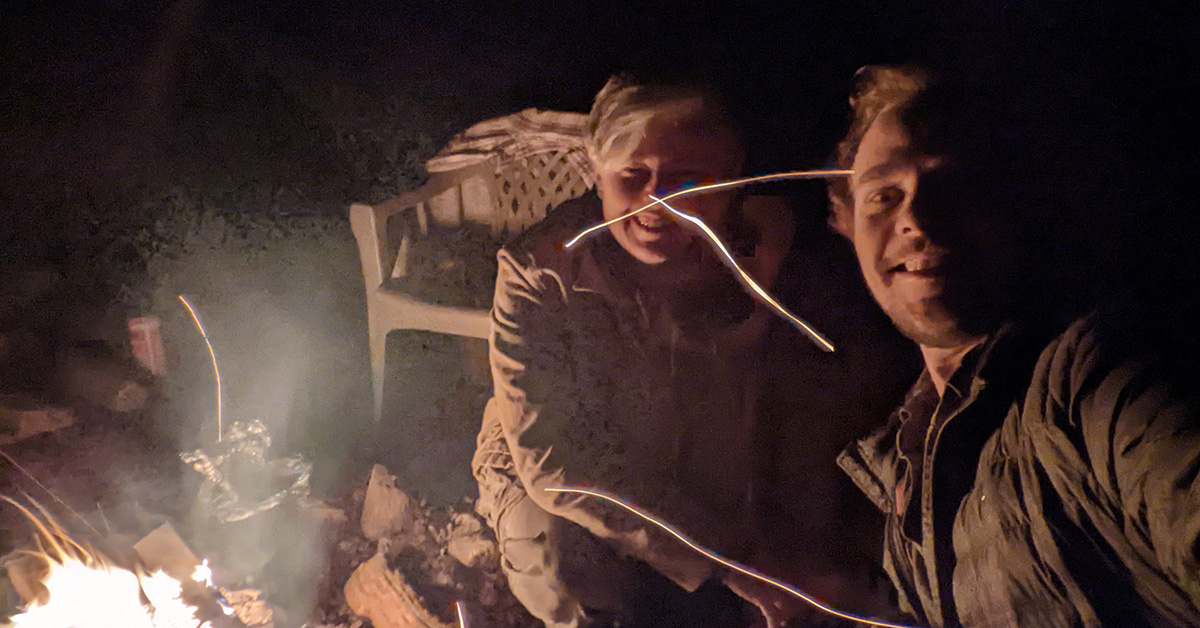 The stars in the sky shined so brightly, and the creekside was the perfect backdrop for the off-hours of the class.
One last thing if you decide to go!
Consider using Airbnb. If you are an outdoorsy person then please think about using my referral code ❤️🏕️!